Recreation and Attractions
Pike County abounds in recreational opportunities. Whether one enjoys hiking, horseback riding, camping, fishing, canoeing, hunting or photography, you'll find the ideal location in Pike County.
A number of festivals and events are also offered throughout the year. Some of these include:
Buffalo Trace Festival
Independence Day Celebration in Otwell,
Car Show in Petersburg,
4-H Fair in July,
Zoar Mosquito Fest in August
Catfish Festival in August,
Old Time Auto Show in September
Christmas parades in Winslow and Petersburg,
Winslow's Winter Wonderland,
Christmas Light Display in Hornady Park
Holly Walk in downtown Petersburg in December
Much More...
Sugar Ridge Fish and Wildlife Area
The Sugar Ridge Fish and Wildlife Area boasts six (6) separate areas totaling nearly 8,100 acres. These include:
Fishing
145 acres in 24 major fishing pits.
No check in is required for fishing.
Major fish species include
bluegill
redear
channel catfish
largemouth bass
Bethel pit (Area VI) is stocked with trout.
Trout stamp required when fishing for trout.
Shoreline fishing is available at some pits.
Handicap fishing access available on West Twin pit. (Area I)
Boat Ramps are available at most pits on Areas I, II, III,and VI.
Electric motor only, 12-volt max.
Fourteen inch size limit for largemouth bass, all other state size and bag limits apply.
Bow and spear fishing is permitted according to state fishing laws.
No boat rental provided.
Hunting
Deer, squirrel and wild turkey are common at Sugar Ridge Fish and Wildlife Area.
Self-service check in is required.
Self-service permit stations are located on Areas III, V and VI.
Daily permit cards must be in the possession of the hunter to enter the field.
The cards must be returned to any of the drop boxes at the end of the day.
Drop boxes are located throughout the property.
All hunting season and bag limits apply.
Night and predator hunting is provided by self-service check in.
Area VI - Designated dog training.
Trapping
Trapping is available through drawing only.
Contact the office for details.
Wildlife Watching
8,100 acres of upland game habitat, wooded reclaimed mine areas and stripper pits attract a wide variety of
song birds
woodpeckers
hawks
turkey
waterfowl
Target Shooting
Target ranges:
Area I – Shotgun
Area III – Rifle and Archery.
Pride's Creek Park & Golf Course
Pride's Creek Park and Pride's Creek Golf Course
Prides Creek is located in Petersburg, IN, less than one mile from the Interstate 69 exit.
Camping
Primitive camping.

$8 per night per tent
or 2 tents on same lot for $10.

Full-hook up camping

$25 a night and we offer both 30 and 50 amp.

No reservations accepted
First come, first serve facility
Open from April 1 to Oct. 31 offering daily, weekly or monthly camping.
Prides Creek has the #1 rated Disc Golf course in all of Indiana, (voted by the players).
Azalea Path Arboretum and Botanical Gardens
The Azalea Path Arboretum and Botanical Gardens is a nonprofit, privately owned facility located on the Gibson/ Pike County border in Southwestern Indiana. It is a seasonal attraction featuring some of the most beautiful azaleas you will ever see.
Hornady Park & The Petersburg Fitness Trail
Hornady park is located at 1211 West State Park Road 56 in Petersburg, IN. Hornady Park is home to the Kiefer Splash Park boasting16 individual water features. It is open throughout the summer and is free of charge!
Hornady also has a shelter house that can be rented by calling City Hall at 812-354-8511.
The park is beautifully landscaped with a playground, picnic tables and a lovely lake with a dock. It is also home to some pretty friendly ducks. You'll want to be sure to catch the Christmas Light Display.
Petersburg's Five-Mile Walking Trail begins at the 4-H Building in Hornady Park or Petersburg Elementary School. The trail is clearly marked with directional signage including distance markers every 1/4 mile to keep you on track.
Along the route you will also encounter "Fitness Facts" sponsored by local health professionals and community organizations for use as part of a healthy lifestyle. This was made possible by a United Way of Pike County grant. The grant also provided the city with 7 park benches installed along the project trail.
The Pike State Forest Consists of 4,444 acres in southwestern Indiana.
The topography varies from hilly uplands to the low bottomlands of the Patoka River. A wide variety of plant and animal life make their homes here. Several recreational opportunities are available at Pike State Forest, including
hunting
horseback riding
picnicking
bird watching
and hiking
Camping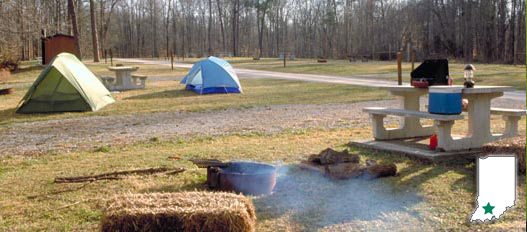 Primitive camping is available for a fee.
Campsites are available on a first come, first serve basis.
Self-registration is required.
Pit toilets and seasonal drinking water are available.
There is a picnic table and grill located on each site.
Eleven (11) sites are available in the family camping area
and twenty-five (25) sites are located in the Horseman's Campground.
Fishing
The Patoka River is accessible for fishing.

A valid Indiana fishing license is required.
Hunting
Whitetail deer
Turkey
Squirrel
Fox
And raccoon
Valid hunting license is required.
Picnic Areas
picnic tables and grills are available for day use.
A picnic shelter and playground are also available.
Trails
Hiking/Horse Trails are available on the forest property's firelanes and bridle trails.
All horses brought, driven or ridden onto the State Forest must have a valid annual horse use tag.
Hikers and horseback riders are advised to wear hunter orange or other bright clothing while on trails during hunting season
ADD PAGE
As you navigate our website, you can use the "Add Page to Report" button to add any page or property to a custom report that you can print out or save.